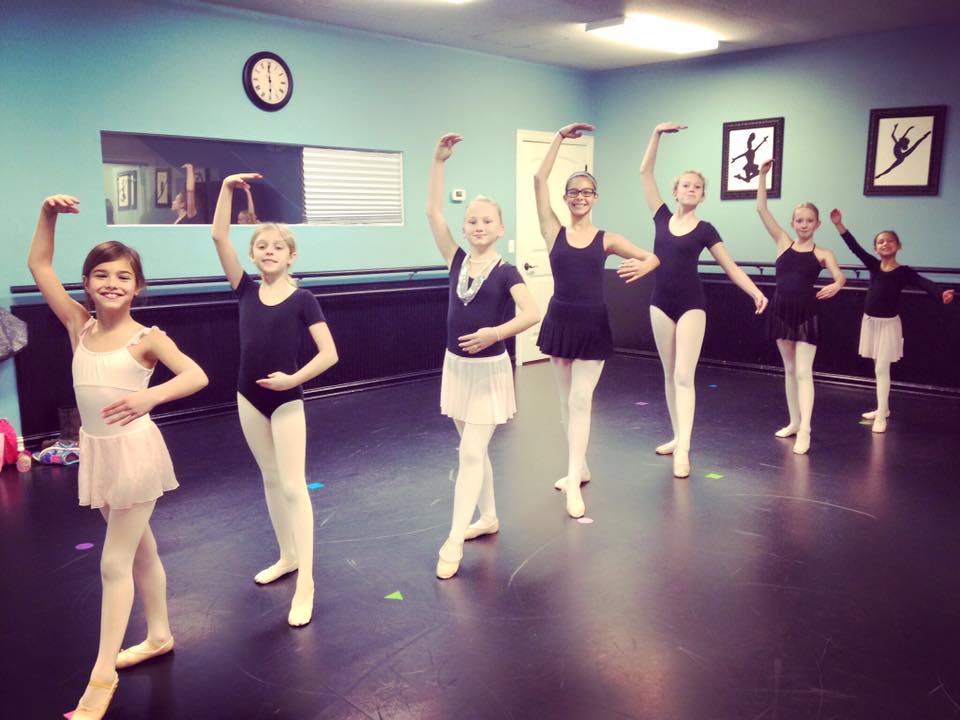 Jenks Dance Academy is dedicated to providing excellence in technique and positive role models. Advancement is based on correct placement, skill mastery, and instructor recommendation-not by age-which means all classes have a variety of age levels. Students spend an average of two years at each level before mastering the skills to advance.
Beginner, Intermediate, and Advanced
Ballet: (Beginner, Levels 1-5)  JDA teaches classical, traditional technique from the French ballet and is based on the turn out, the five positions of the feet, pointe work and technique of beats, turns, elevation, and extension.  Attire: Black leotard, pink footed tights (convertible for pointe), pink leather ballet shoes, dance skirt, pointe shoes per instructor approval
Tap: A dance style in which the rhythm is sounded out by the clicking taps on the heels and toes of a dancer's shoes. Very invigoration and fun! Attire: Leotard, fitted tank or tee, jazz pants, capris or shorts, tan tights, black tap shoes (no ribbons)
Jazz: Jazz combines many styles and techniques from ethnic and contemporary dance to ballet. The first half of class consists of exercises to stretch and develop muscles to support proper stress-free alignment of the skeletal structure. Using jazz, soul, R&B, ethnic and pop music, jazz classes are a great workout and a fun way to release tension while attaining a body awareness that can be applied to every style.  Attire: Leotard, fitted tank or tee, jazz pants, capris or shorts, tan tights, tan jazz shoes
Hip Hop: Students will gain a valuable understanding and appreciation of the improvisational nature of this dance form and will examine different manifestations, like — breaking, popping and locking, house, and fusion — while equipping students with the fundamentals of each style. This class will break down steps and technique and also emphasize bringing style and personality to the movement.  Hip Hop is a non-traditional dance style that will encourage students to step outside of the box and dance big. A high-energy class that uses the latest sounds in rap, R&B and pop music together with movements influenced by some of today's best choreographers. Hip hop is urban, it's street, it's diverse and forever changing. JDA is very careful to teach only age appropriate and non-suggestive moves.  Attire: Dance Tank or T-shirt, black jazz pants, capris, shorts, or sweat pants, black high top sneakers.
Acrobatics: Basic elements: such as rolls, cartwheels, hand/head stands, round offs, scales, leaps, etc., plus conditioning, stretching and flexibility.  Attire: Leotard, biketard or fitted top, fitted dance leggings, capris or dance shorts, bare feet
Contemporary: A fusion of modern, jazz, and ballet that is all about expression and/or story telling.  Dancers will explore a wide range of organic, often angular movements and syncopated rhythms with a strong base in classical technique. The warm up is based on ballet, yoga, and Pilates exercises and stretches that focus on breathing. The class evolves to the learning of original choreography, broken down and demonstrated for clear understanding. Designed for the beginner, intermediate and advanced students, an understanding of the classical vocabulary and previous experience with jazz and/or modern dance are helpful. Attire: Tank or fitted tee, dance shorts or yoga style pants, no loose clothing, Foot Undeez
* Registration requires payment of the first month's tuition and a $25 annual Enrollment Fee.
Beginner to Advanced Ballet
What you will need for class:
Ballet: Soft ballet shoes, pink tights, leotard, ballet skirt and water bottle.
Pre Pointe: Soft ballet shoes, pointe shoe ribbons, pink tights, leotard, ballet skirt, water bottle and a Theraband.
Pointe: Pointe shoes, toe pads, pink tights, leotard, ballet skirt, water bottle and a Theraband.
Ballet - Beginner, Intermediate, & Advanced (ages 6+)
Levels are designed to teach students to perfect ballet technique, placement,
control, and posture. Pointe is introduced depending on a student's age and
ability to do so safely.
Students will receive a placement card at the end of the
school year. If you are new, contact the ballet instructor for a 30-minute
placement class
Pre-Pointe
Pre-pointe will NOT use pointe shoes. The concept is to prepare the ankles, legs, centre and balance so that when you do eventually use pointe shoes, you will be ready.
Pointe
Dancing "en pointe," or on pointe, is a major goal in a ballerina's dance life. Dancing on pointe, or your toes, requires tremendous strength of the legs and feet. Girls generally begin pointe at level 3 or 4 and Pre-Pointe at level 2; however, they must first be approved by the Ballet instructor. Pointe work will be approved only for students who show enough maturity and ability to do so safely. Pointe class is an additional class to the regular ballet schedule that focuses purely on pointe for beginners. Following are 5 requirements that must be met before considering starting pointe ballet classes.
#1 - Age: Because growth of the foot is about complete at age 11 or 12, many agree that pointe work could be introduced at this time. Never try dancing on pointe shoes if an instructor tells you to wait, as it's easy to become injured.
#2 - Technique: Years of Training for Pointe: You can't begin a ballet career in pointe shoes. In order to be able to dance on pointe, a dancer must have had time to achieve the form, strength, and alignment needed to make a successful transition into pointe work. Proper technique is required to be able to properly rise on the toes without risks of injury.
#3 - Class Enrollment for Pointe: In order to maintain proper technique and flexibility needed for pointe work, it is imperative to practice ballet formally at least 2-3 times per week.
#4 - Physical Readiness for Pointe: All dancers should be formally evaluated by their ballet teacher to determine if they are physically ready to meet the demands of pointe work. The teacher will check for correct body position and alignment, sufficient turn out, strength and balance, and mastery of basic ballet techniques.
#5 - Emotional Maturity for Pointe: Pointe work is hard work. Beginning pointe classes will be more demanding on your body, especially your feet. Are you prepared to suffer from sore feet and occasional blisters? Also, pointe shoes are complicated and demand a certain level of responsibility to maintain. You must be taught the correct way to put them on your feet and tie them to your ankles. You must also care for them properly to keep them in good condition. Furthermore, are you ready to devote at least two-three hours per week to ballet classes? Choosing to dance on pointe is a decision that should be taken seriously.
* Registration requires payment of the first month's tuition and a $25 annual Enrollment Fee.